18 Jul

A Perfect Lady and A Perfect Gentleman
A Perfect Lady and A Perfect Gentleman: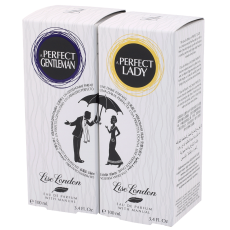 'She is effortlessly elegant and makes her own fashion' and 'above all, he is known for his discretion': together they fuse to make A Gentle Couple,  two more classic yet ingenious scents unlike any other. With notes of red fruits, the royal lily and vanilla for her and hints of oud, jasmine, Ylang-Ylang and frankincense for him, just one spray will transport you to a dream world of tranquillity and calm.  Creating such original perfumes is an art form that Lise London has spent many years working towards, sourcing only the finest natural ingredients from the depths of the French countryside and far away exotic countries.  Inspired by an opulent lifestyle, with a dedication to creating perfumes that trigger feelings of gaiety and bliss, Lise London has created truly these true magnificent scents. 
Feeling spoilt for choice ? Send us an email to order one of our tester kits and see which fragrance you connect with. 
Dedicated to sparking positivity we would like to leave you with this: 'Nothing is impossible, the word itself says 'I'm possible'!' (Audrey Hepburn)
With love, Lise London x